WELCOME BACK CHS & WSA!!!
Columbia High School and White Salmon Academy are open for Hybrid In-Person Learning. Please help us with a smooth transition back by watching the video below and reading the information that follows.
You may need to click the video multiple times to get it to play.
You may need to click the video multiple times to get it to play.
SAFETY REQUIREMENTS:
Complete a daily wellness screening in Skyward Family Access

Appropriate face coverings are required, coverings must be double layer fabric. If using a neck gaiter it must also be two layers of fabric.

Hand hygiene to occur upon entry into the building and classrooms, between each student/staff encounter, after using the bathroom, before and after eating/drinking, after touching contaminated surfaces, and as frequently as deemed necessary during the day.

Social distancing will be practiced (6ft or more)

Restrooms in A Court and C Court will have no more than 2 students at a time. Restrooms in the library are a single user only.

If a student presents any symptoms while at school, they will be isolated and will be sent home. Students must be picked up within 30 minutes of guardian contact. If the student drove themselves then they will be released after guardian contact has been made.
Cohorts:
Each student has been assigned to an A, B, or D cohort. Our A cohort of students will attend school in-person on Mondays and Tuesdays from 8:15 until 12:30, and they will be remote learning on Wednesdays, Thursdays, and Fridays. Our B cohort of students will attend school in-person on Wednesdays and Thursdays from 8:15 until 12:30, and they will be remote learning on Mondays, Tuesdays, and Fridays. Our D cohort of students has chosen to remain in full-time remote learning. They will be remote learning Monday through Friday. If you are not sure what cohort your student is in, you can log in to Skyward Family Access and select the activities tab or look in the message center. In the event that you need to change your student's cohort or need assistance, please call the CHS office at (509) 493-1970, ext 0.
New Bruin?
Get to know our campus and the staff before you come to school by clicking here to meet our staff.
What to bring to school each day:
Students will not be using lockers and will not be allowed to return to cars during the day so it is very important to have a good backpack to carry your books and supplies. In addition to the backpack students should bring:
Water bottle (there is a water refill station in each court)

Laptop or Chromebook fully charged (bring charger just in case)

Double layer masks

Basic school supplies

pencils and pencil sharpener

pens

paper

etc
Entrances & Exits
Doors will not open until 7:45 a.m. each morning. Students will enter through the main doors of whichever court they arrive at.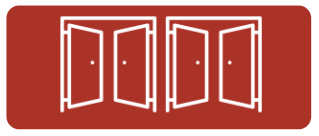 Left door: Verification of screening needed - - Right door: Proof of screening (phone)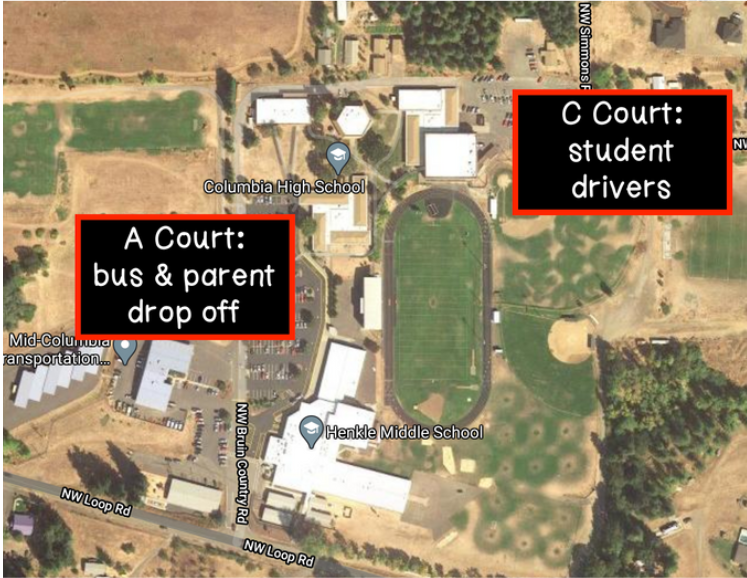 A Court Entrance: Students who walk, ride the bus or are dropped off.

No student parking in A court. All student parking is in C Court.

C Court Entrance: Student Drivers or drop off.
Students will enter and exit the building through specified doors and hallways will be one direction. The green arrows represent entrances while the red arrow represents exits. Inside each court, you will see Bruin paw prints. Please try to follow the direction of the paw prints when moving from room to room in one of the courts.